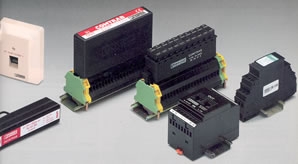 Surge Protection For Data And Telecommunications by Phoenix Contact
Related Technologies:
Data and telecommunication circuits are also a common pathway from which transients can enter your sensitive electronics. In addition to causing physical damage, transients induced onto data lines can interrupt data streams and prevent the information from getting to its intended recipient. These interruptions can cause costly downtime and reduced system availability.
These surge protection devices typically utilize a hybrid circuit consisting of fast-reacting suppressor diodes and high capacity gas-filled tubes. Because of their high data transfer speeds, special care must be taken with surge protection circuits so as to not attenuate the normal data flow. The most important issues for selecting surge protection devices for data circuits are: termination connector, signal voltage level, and data rate.

About Phoenix Contact
Welcome to the world of Phoenix Contact...a world of electrical connection between conductors and printed circuits boards, a world of automation technology and signal level matching and a world of surge voltage protection. Over 7000 Phoenix employees work in partnership with clients to create innovative products for markets across the world.